---
Home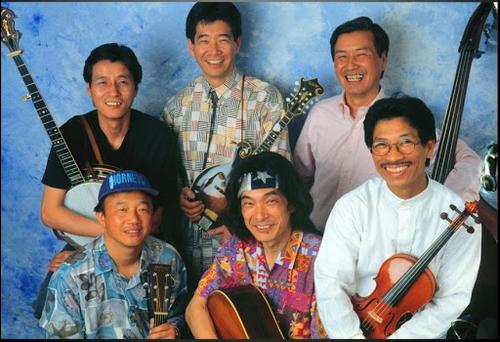 Tsuyoshi 'Josh' Otsuka: lead vocal & guitar
Akira Otsuka: mandolin
Toshio Watanabe: Bass
Saburo Watanabe Inoue: banjo
Hsueh-Cheng 'Ryo' Liao: fiddle
Chien-Hua Lee: guitar
(photo by Nobuharu Komoriya)
In 1967 Bluegrass 45 was formed at the Lost City Coffee House in the port city of Kobe, Japan. The band members were eager to learn music and eager to entertain the audience while having fun themselves. They released a self-financed and produced LP, "Run Mountain," in 1970 with unique arrangements of old and new songs including Dave Brubeck/Paul Desmond's popular 5/4 Jazz tune "Take Five." Later that year they were "discovered" by Dick Freeland of Rebel Records, thanks to Ian Tyson's recommendation; and Dick arranged US tours in 1971 and 1972. They traveled from Georgia to Massachusetts to the Grand Ole Opry in Nashville to Toronto, Canada. They also released three LPs on Dick's Rebel Records label.

After the tour of 1972, Bluegrass 45 disbanded and they went their separate ways – Josh formed his own "Leaves of Grass" while working at a music store; Akira moved to Maryland; Toshio and Sab founded Bluegrass and Old Time Music Services (BOM) and started a Bluegrass festival of their own. Liao and Lee worked in non-Bluegrass businesses and raised families. Occasional reunions were held when Akira returned to Japan.

The earthquake that hit Kobe in 1995 destroyed several of their homes; and took the lives of some of their friends and acquaintances. As often happens in the wake of an unexpected tragedy underscoring the temporary nature of life, the members of Bluegrass 45 found themselves reevaluating their priorities – family, friends and music. In 1996 they reconvened and toured in Japan and the States, including performances at the Birchmere Music Hall in Alexandria, VA, the Courtney Johnson Memorial Concert at the Ryman Auditorium in Nashville, TN, and IBMA's World of Bluegrass in Owensboro, KY. They also released a live CD, "Once Again, From Kobe, Japan," and a movie, "That's The Time," produced by Kosei Yoshida that year.

In the decades that followed, Bluegrass 45 has enjoyed performances at Bean Blossom in IN, ROMP Fest in Owensboro, KY, Wintergrass in Bellevue, WA, IBMA World of Bluegrass at Red Hat Amphitheater in Raleigh, NC, the Birthplace of Country Music Museum in Bristol, TN, and numerous venues in Japan.
*********************************
Saburo Watanabe Inoue
December 3, 1949 – November 22, 2019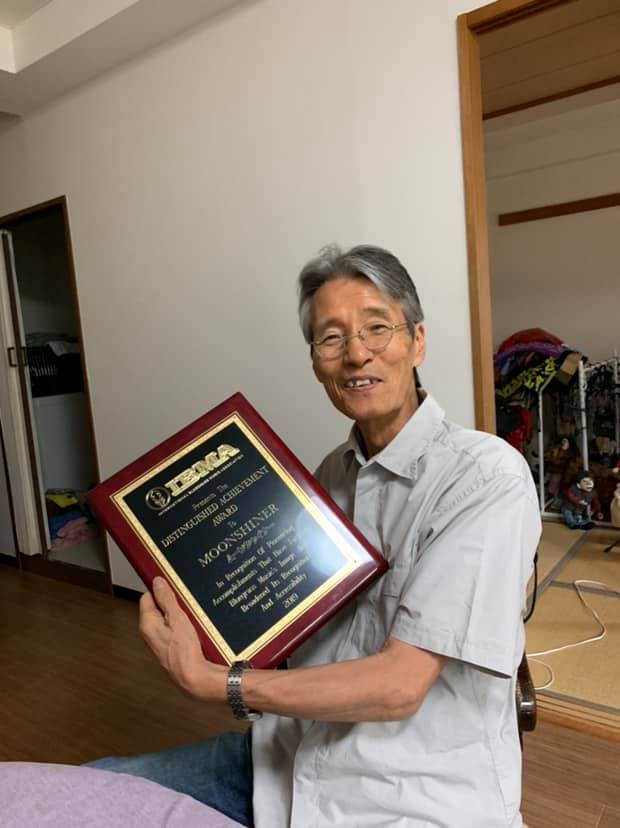 Sab passed away on November 22, 2019 after a long battle with cancer. He devoted his entire life to Bluegrass as a record producer (producing Tony Rice's first solo album in 1973), editor of Moonshiner magazine for nearly 40 years, festival promoter, educator and consultant. Rest in peace Sab-san. (photo by Shin Akimoto)

*********************************
Our good friend, Fred Robbins, created a "Bluegrass 45" page on his website with many of his wonderful photos. Please check it out. Thank you, Fred!
Fred's Bluegrass 45 page


---
Header photo by Josh Goleman
Copyright © 2021 Bluegrass45.com All rights reserved.